Feb 11, 2013
I saw this little diddy last week on
Jenn
's (and
Amber
and
Heather
's before that) blog. Just for funsies, and gettin' to know each other, here are some personal "firsts" from this Poodleist on a Monday afternoon.
1. First thing you do when you wake up in the morning:
Start the coffee pot and roll over and give this little dude lots of snuggles:
2. First thing you do you when you get home from work:
Well I work at home, so really I'm already here. But, I usually stay pretty strict about not turning on the TV all day, though sometimes the lack of background noise is deafening. So, usually my first thing is to turn on the TV (right in time for
Seinfeld
on TBS, thank goodness) and unwind for a few minutes. Around this time usually
the puppies
my co-workers are ready to get outside and eat dinner.
3. First kiss:
Honestly, I can't remember, which feels pretty slutty, but really I just have a bad memory. I think I'm going to have to go with my middle school boyfriend Eric. We haven't spoken since around that time.
4. First home:
I'm still DYING to own my own home, but I lived alone for the first time my first year after college. I stayed around Austin to get my first job and lived in a small one-bedroom duplex that I called my "Shanty". It got that name because it was a total shithole. Really. The prince was a brand new puppy when we got it and we keep each other company alot in that little Shanty. I lived in the front part with the little fenced yard:
BTW, I just got lost/distracted on Google Street View looking for that for like the last hour.
5. First car:
Ford Explorer Sport. I got to choose it and I went with the two door. HUGE mistake. I drove it for five years until I got a new car for my 21st birthday.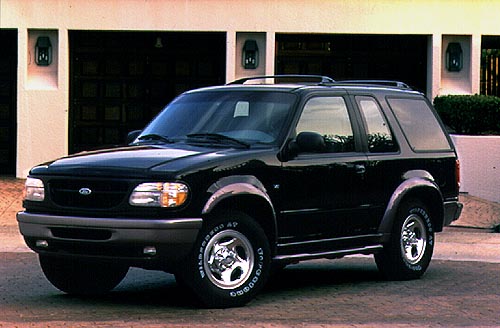 6. First car accident / traffic violation:
Honestly, I'm having a hard time recalling this one too. Those first couple of years behind the wheel were a little rocky, to say the least. I side-swiped, rear-ended and sped before I'd even left home for college. Whoops. My record has improved greatly now, though.
7. First thing you wanted to be when you grew up:
Hmmmm, I'd have to say teacher because my mom was one. She has taught high school for years and years. When we were little she'd drag us along to football games, homecoming parades, plays, all kinds of "big kid" stuff that I loved.
8. First choice beverage:
Hmmmm, lately, I've been LOVING flavored sparkling water, like La Croix. I have a hard time just chugging down as much water as I should, but I find the the bubbles and light flavor (no sugar, no cals, no anything) help me stay hydrated. My favorite? HEB grapefruit:
9. First choice dessert:
Cupcakes. Hands down. I have a favorite here in town,
Sugar Mama's Bakeshop
. I'm counting down the days until my birthday (less than two months!) when I'm allowed to eat cupcakes all week. Yay!
10. First choice restaurant:
Coal Vine's Pizza
. I originally discovered it living in Dallas where it was my and my best pal's neighborhood go-to for wine, cheesy things and gossip. When I first got back to Austin it was one of the few places I truly missed about DFW. Lo and behold, they built one here too! I had my birthday party last year and it was one of my highlights of 2012 -- for the pizza and the camaraderie of course.
11. First song that comes to mind:
Amarillo by Morning By George Strait:

Two reasons. Lately I've been on a little kick of listening to George Strait classics late at night when the Ginger and I are recapping our party night. This weekend, in the Texas paradise that is Fort Worth, was no exceptions. Secondly, I've been skipping around writing these questions and did #14 before this one. :)
12. First major purchase:
A mattress. Almost as soon as I got my first real paycheck after college I got myself a fancy pillowtop cloud bed that I'm still sleeping on today. I needed it. It took me a year to pay for the whole thing, but it was long, long overdue.
13. First job:
Through high school and college I had some babysitting and lacrosse-related jobs, but my first real, get a W2 job was at this terrible burger place called B&Bs. It was the summer between my freshman and sophomore years of college. Home for the summer, I had to find something to do and this place was close to home and would let me avoid working at night. It smelled weird in there, every other person I worked with was a total lowlife and it's now given me a lifelong aversion to commercial kitchens. But, lesson learned: stay in school. Waiting tables sucks.... or at least I'm no good at it.
14. First time you flew on a plane:
Flying to Amarillo, TX to visit my grandparents. My mom used to take me and my sister up there in the summers to visit her hometown and see Granny and Granddad. It's a short 2ish hours on a plane to get up there but a cool 11 hours in the car.
15. First real "big girl" job:
At the end of college, I thought I wanted to be a lawyer. I took the LSATs and got into schools. I got the piece of advice that it was going to be a major struggle to get through law school and to be sure it's what I want. So, I deferred my acceptances for a year and worked as a Legal Assistant (paralegal/admin) to two lawyers practicing civil litigation. I absolutely HATED it. I had some personal distaste for one of my bosses, but really I just didn't like lawyering. It was legit, every day, 8-5, serious big girl stuff and it sucked. One year was plenty.
Thanks all folks! Let me know if you decide to do a "Firsts" post in comments!
Archive