Jan 30, 2012
Hello all, my little universe has been crazy lately. But, I'm back this week and ready to blog it up. I've missed you, internet friends. ALOT.
So, it's a great day to participate in this: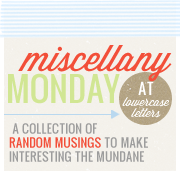 Here are just a few things keeping me such a busy little bumblebee:
Bachelorette Party Craziness
Last weekend I bopped up to Dallas to celebrate one of by best buddies bachelorette. We got into all kinds of hijinks: a pole dancing class and we all wigged out!
We wore wigs around all night to dinner and clubs and it was super fun. Great theme, but itchy.
While I was wigging out, my iPhone went into the toilet. It was at the beginning of the night, while I was still sharp....which is even more embarrassing. I used a land line for several days. It's so weird. I tried to put our cordless landline phone into my purse on the way out the door like 5 times. IDIOT.
Turns out iPhones can't swim. I spent the better part of last week cleaning up that mess. No phone is pure chaos.
The poodle has been having all kinds of issues. Nothing too serious, but he had to go to the vet last week, needs to go back today and is just really out of sorts lately. He's going to be just fine, but it makes me a psycho ball of nerves when he isn't well. You'd think I'd get used to it. Can't.
Please send him all your best prayers/voodoo/meditation/whatever.
My best pal and semi-spouse turned 26 and we girls painted the town!
Mid-week party night effs me up for like 4 days. Old lady much?
This time of year I try to catch up on all the Oscar-Nominated Best Pictures. This weekend I watched:
Tonight, I'm hoping to enjoy
Midnight in Paris
. I always seem to be scrambling to see all the films right before. Really,
the Help
is my favorite so far. It swept the SAG awards last night and I hope it does well at the big show!
:)
Also,
this
has kept me really busy and happy.
Thanks for playin'! Go link up with
Carissa
! Seeya tomorrow!
Archive