Aug 30, 2011
So last night I finally watched the VMA awards. Yes, this is a day late, forgive me. I have some thoughts about the fashions and other happenings....
2.
Lady 'Jo Calderone' Gaga weirds me out. It weirds me out hard. I'm for the gaga-esque gender maleability, but this was just odd. She didn't break character once. It was strange to hear
Gaga voice coming out of man body
. I can't make up my mind about it. I hope this doesn't become like a thing now. That Gaga, what will she/he think of next?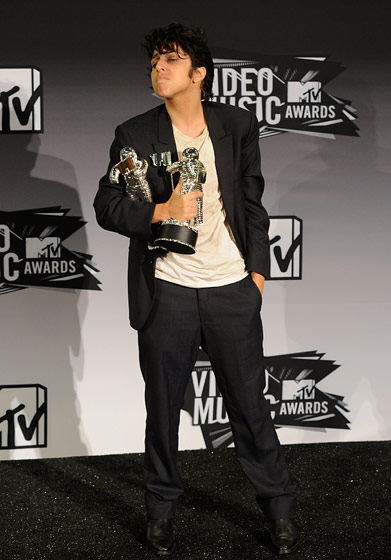 3.
The Britney Spears tribute was a complete and total mindF...in a good way. It was costumes and snippets of all her best peformances:
Tell me you aren't blown way by that awesome mashup. She was so stinking sweet and appreciative, too. I think she's finally back. ....It's Britney, bitch.
4.
Katy Perry has officially gone to full-on famewhoring. I feel like she really just wants attention and acts bizarrely just because she can. This bums me out, I really liked her.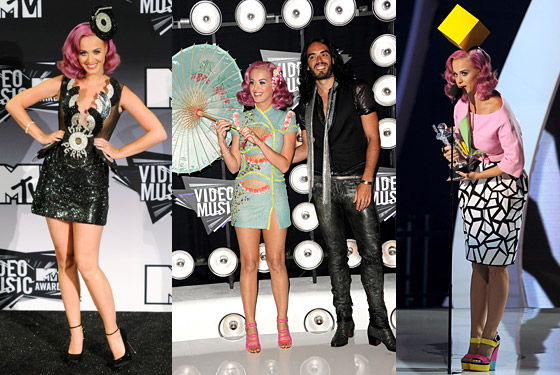 I do love the pink hair, but all of these were a little strange to me. That third one (far right) looks like Betty Draper is headed to a Packers game, right?
6

.
Call me unforgiving, but I don't want to see Chris Brown.
He's wildly talented, I'll admit, but he beats women. Not acceptable. Go away.
And as for the fashions...these are my favorites:
Volumptuous as always, this is a pretty classy one for Kim K. Like the sparkles, obviously
Although this outfit looks straight out of an Eddie Bauer catalog, I'm liking skinny Jonah Hill. ALOT.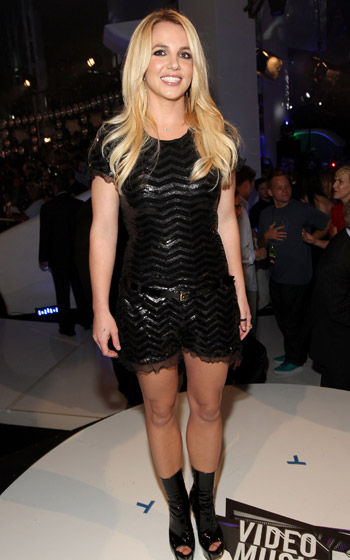 Britney kept it pretty classy. I don't know if I would have gone with glittershorts, but she really does seem to be cleaning her act up.
Yes, it's ludicrious. But, it's glittery and it's Mickey Mouse. Kind of love. Kreayshawn is pretty fabulous.
And my not-so-favorites...
WTF, Nicki.
Easy with the teen mustache, werewolf. TEAM EDWARD.
Ugliest thing I've seen in a long time, and yes, I'm speaking solely of the dress.
Of course all the Jersey Shore-ites looked absurd, but really, what is this? Come on, Deena.
So, that's all, folks, what'd you think of the VMA's Sunday night? I love the VMA's. It may be my favorite awards show.
Archive