Aug 30, 2011
Last night, during Bachelor Pad
(which, btw, is ROCKING MY WORLD this season. Hi, there is no crazy like that of the Melissa. I'll miss her.)
they
announced the new cast
for Season 13 of Dancing With the Stars! I only like DWTS in the beginning when all the crappy dancers are on there. It's kind of like how American Idol starts to suck when it's only down to the talented ones.
This year's group
looks solid enough for m to tune in! The cast is really quite a collection of characters.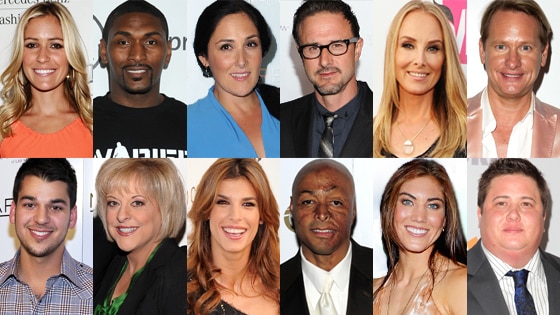 Here are my thoughts...
Ricki Lake
(42, actress and talk-show host)
She could be awesome. I always thought she was really funny. I hope this springboards her back to fame. She was previously in Hairspray (the musical) so maybe she has a leg up.
Ron Artest
(31, NBA star)
The obligatory "contestant for men to root for", I'm not that interested. But, isn't he kind of a big deal in basketball?
Kristin Cavallari
(24, former star of Laguna Beach and The Hills)
Why do we allow her to continue to be famous. WHY?!
Chynna Phillips
(43, pop singer)
I hope she can hold on for more than one more day. They better get her dancing to this sweetass jam (which is in my head HARDCORE now):
David Arquette
(39, actor)
Can we now properly, and officially declare his career over?
Carson Kressley
(41, TV personality and style expert)
DIVA. He could be giggly.
Nancy Grace
(51, HLN host and legal commentator)
I feel awful for her partner. She has the potential to be really mean and and even worse dancer. Kirstie Alley without the humor.
J.R. Martinez
(28, Army vet and All My Children star)
I love a survivor story. He's my early pick. Read his inspirational story here.
Hope Solo
(U.S. soccer player)
I expect hotness but a certain amount of "lady athlete with two left feet" syndrome. Also, why isn't she practicing soccer?
Rob Kardashian
(24, Keeping Up With the Kardashians star)
Early prediction: He's going to sleeze hard on whoever his partner is. Also, the Kardashian sisters will appear in the audience often.
Elisabetta Canalis
(32, Italian actress, George Clooney's ex-girlfriend)
Snooze.
Going on a program notoriously for washed up has-beens....
she really showed George.
Chaz Bono
(42, son of Cher and Sonny Bono)
I have a lot of questions. This could be trainwreck television at it's finest. CAN'T. WAIT.
Well, that's the skinny on the DWTS situation. Thoughts? Who are you most excited to see? DON'T YOU DARE say Kristin Cavallari. Don't even think about it.
Archive