Jun 17, 2011
Happy Friday gang! Today I've begun my brand new life as an at-home working person. It's awesome so far. I got up on time, feeling chipper, ready to get some stuff done. Of course, I'm feeling productive for the first time EVER and can't find much to work on. Champagne problems, I guess.
So, although I'm still in full gypsy mode, I'm dreaming of how I'l decorate my new home office. I presume I won't have anywhere near this much space/cuteness to work with...but these are some that I'm LOVING:
Ah, decorating dreamland, how I love thee. Well, I'm excited. I'm hoping this means a calmer, happier, more productive me. And I think we're off to a good start. Do any of you work from home? Any tips on how to make the most out of it?
Sidenote: Welcome to any new visitors from the Social Parade! Leave me a comment and I'll check you out! Thanks for stopping by!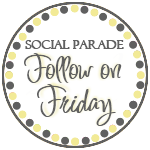 Archive