May 5, 2011
Hola
!
Hoy
es
el Cinco de
Mayo
!
No podría
estar
más
emocionado de
estar
de regreso a casa
para
una
deliciosa
margarita
esta noche
.
Translation: Hello! Today is Cinco de Mayo! I couldn't be more excited to be headed home for a delicious margarita this evening.
Why, you ask? No, not just because they're delicious.
This year I'm spending Cinco de Mayo being an idiot. This has happened in the past, but not the same sort of way. For some reason, this entire day, I've just been a little off my game...
First, I overslept 20 minutes. When you only give yourself an hour to get ready for the day, which is probably my first mistake, 20 minutes is a big loss. In my haste, I remembered my festive outfit, duh. The tardiness of course affected my carpool buddy, which makes me feel guilty. We were late. My bad. I didn't recover until around lunchtime.
Then, Today we were supposed to dress businessy at work. My office is super, super casual, except for the rare occasions when clients come into the office. We're supposed to dress like adults on those days. Today was one of them. Clearly I completely forgot and wore this to work:
Festive? Yes. Businessy? No. Shit. I was so embarrassed when I got here. Not only is it way too casual for serious client day, but it's a theme-party outfit. I decided to wear my favorite Mexican-inspired boozing dress to work. What an idiot. I hid from the clients.
Then, wardrobe malfunction. I had to go to physical therapy for my ankle today, and that already makes me feel stupid enough that I have chaos from just doing normal person things. As I'm sitting there doing my exercises, chatting up my technician helper, the strap on my dress gave up. It just decided it was over the whole day. I guess I can identify. I bent over to reach something, the strap broke, and my BOOB fell out. I have a t-shirt under this dress (and a bra), but I guess the boob wasn't ready to be released and just kind of fell out. The technician didn't get a full on nipple slip, but there was definitely a show. His remark was..."Wow, I don't know what happened, but things fell apart so fast." How astute of him. So, keeping my clothes on with a safety pin:
Without the support of his neighbor, the non-broken strap wasn't unable to do the job alone and the adjustable part kept slipping all the way to it's loosest point, creating something of a fiesta overalls-type look. Not cute. I was lucky enough to find a black pin, which just might be a permanent solution.
I guess I've had wost days, but I haven't really been able to get in my groove today. I never could get the hang of Thursdays. So, I'm shunning the South Beach tonight (which I actually have been ROCKING at) and headed out for limey, tequila-y goodness: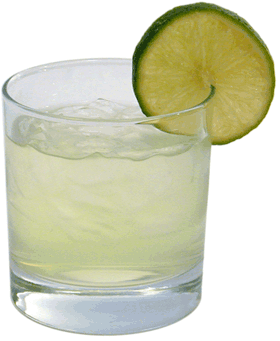 I can't wait for the girltalk and debauchery. We're headed to one of my all-time favorite spots, Matt's Rancho Martinez. How are you celebrating?!
Archive