May 26, 2011
Who has seen this genius-ness? It was about the funniest thing I've ever seen -- or at least in a long time. I thought
Kristin Wiig
and
Melissa McCarthy
were epic...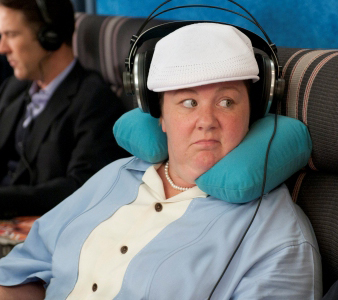 I can't quite put my finger on it, but there's something about the combination of these items that I find completely hilarious: newsboy cap, Cuban man's shirt, neck pillow and PEARLS. Baaahahaha.
In all seriousness though, I loved how they finally made a smart, funny and satirical comedy like this that's all about women. The girl world is funny and I think this captured it to a tee.
Also, let's just come right out and say it...a tale with a baked good-loving, frequently "overserved", crappy but well-meaning bridesmaid as the heroine, is a story I can really get behind. Honestly, it may have hit a little too close to home.
Nonetheless, I give it my overwhelming recommendation. If you have seen it, soak in these deleted scenes, which are definitely R-rated and not safe for work:
Archive