May 27, 2011
Happy Friday all! I'm happy to be back in the newsflash game this week, I've missed it lately. I need to be better, and I will. Anyway, this holiday weekend I'm going to be doing all kinds of packing/moving/apartment cleaning related things, and hoping I can find a moment to squeeze in some debauchery and/or relaxation. I'm having dreams of poolside sangria and acquiring my first tan of the season...we'll see about that. Without further adieu, here are my favorite stories...
1.
Kim Kardashian is engaged
! The queen K herself has recently gotten engaged to New Jersey Nets player Kris Humphries. I'm happy for her. While, I find it absolutely ABSURD that she is marrying someone with another g-d "K" name, it's her turn. He's
super sexy
and sweet and all, but let's just focus on the ring for a sec. He chose a $2 million,
20.5 carat monster beast
:
I didn't even know that could exist! It seriously looks like a game piece from
Pretty Pretty Princess
. I feel like it's just so over the top. (Who am I kidding? I'm JEALOUS.) Anyway, the happy couple will likely have their own show, fragrance, line of negative calorie coctails, t-shirts and intimate wear...so we'll get to know plenty about their romance. Apparently the other Kardashian sisters are
"shocked."
You know Mason Disick spent a night or two on the couch for letting Kim beat Kourtney to the altar. Bahahaha. I feel like they're my real family sometimes, weird?
2.
Ladies, this is a
zit ring
. Gross.
I don't have any freaking clue what could be in the designer's mind, but you can buy one of your very own from
her Etsy shop for $163
. That price might be even grosser than the actual thing. Why is it so expensive? That whitehead is a real pearl. (
Special inside joke shout out: ..."Don't sew up my peeeeaaaaarrrl"
) The even better news? This is going to be the first piece in a whole series of skin related jewelry from this designer. Thank the sweet heavens for that. Sick.
3.
Gossip is healthy!
A new study shows
that gossip "may serve a protective purpose, forcing the brain to focus on people who might be threatening."
In this study they showed the participants images of people's faces, and a statement about their social reputation. When the faces were flashed in front of them quickly the participants spent more time looking at the faces of the bad reputation people, hinting that they had a better recollection of them. This led researchers to conclude that rumors/gossip about bad people may help the nice people stay away from them. Now, I feel like this whole thing is a stretch. But, I feel I must share because it kind of validates the existence of this humble blog, and also...ME. If gossip is healthy, then bring on the PerezHilton, the Star Magazine, the E! News. Lately I've made an effort to avoid these things because I fear it's rotting my brain, but now, I have to do it in the interest of my own health and safety. I have to.
4.
There is now pejazzling
. I couldn't find a good picture of it, and maybe that's a good thing, but here are two of the designs:
What is pejazzling, you ask? It's the male extension of vajazzling, or gluing sparkles to your junk. I'm normally way on board for gluing glitter to stuff, but that doesn't interest me when it comes to manly parts. Maybe I'm crazy but there's something not right about a sparkly man-unit, right? I'm grossed out by this. I don't know what I'd do if I ever encountered this. Probably panic. Let's hope I never find out.
5.
Quote of the Week:
"You couldn't pay me a billion dollars to take marijuana. I don't really like coke anymore. I'm scared of ecstasy. The one drug I'd like to try one day is Ayahuasca, which should be mandatory for everybody. It's apparently this crazy tea that gives you these intense hallucinations. Everyone who takes it sees a wise old black man who takes you on a wild journey. I'm not going to name names, but everyone who takes it sees the same black guy. I'm not kidding you. Everyone!" 

 -- Courtney Love to The Fix re: her addictions
Courtney Love is crazy, big shocker there. But what really entertains me about this is that she hasn't tried this magical tea yet. It's like she takes her journey through the various drugs seriously and is making her way to it eventually. You've gotta appreciate that she's methodical in her addiction acquirement and really feels that everyone else should be too. Also, this "black man" that everyone sees. What the hell? I'm super curious. She is blog/television/gossip/rumor gold. Courtney, don't ever change.
6.
New science say
s there is as much water on the moon as on earth! This is a big deal...why? It means we can likely live there some day. Scientists figured this out by analyzing volcanic glass gathered on the moon's surface during the Apollo 17 mission. They were able to figure out (how, I have no idea) that there is proof that 100 times more water exists in the moon's mantle than previously thought. WHOA. This changes everything scientists thought they knew about how the moon was formed, it may have been once inside Earth's atmosphere. What does that mean? Plans to live on our moon one day just got a lot more real. It's now alot more likely that we can set up shop there once we burn this planet all up with our Hummers. I'm excited by this. My first thought of life on the moon is that me and the prince would have to get a much longer leash if we're going to be bouncing all over the place without gravity....
(For those of you that are new to Poodleism, I'm a HUGE nerd for space. You just have to bear with me once in a while.)
Have a great weekend lovelies, I'm going to be one busy little bumblebee, so have an extra drink and soak up a little extra sun for me. I'll be thinking about all of you vacationing!
Also here's a new thing I'm doing: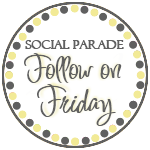 If you're here via the social parade, WELCOME! Stay awhile!
Archive