Apr 19, 2011
Greetings! It's Tuesday morning. Tuesday mornings don't do a thing for my mood. Luckily, I love the topic today over at
The Undomestic Momma
's
Top 2 Tuesday
!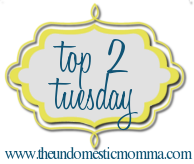 Top 2 Things I Collect!
1. Poodle Things
Duh. But, I'm a little snobby about it. These poodle collectibles must be unique, or vintage, or awesome in some way. (Seeing that written out makes me realize this is sort of a strange hobby.) Here are a few of my faves...
Vintage brooch. Shiny, pearly poodle-ness. Love.
This was so weird. I found this painting at an art festival last year sometime. It looks oddly, strangely, freakishly like the Prince. If my little pup could enjoy a dirty martini, I have a feeling he'd be all about it.
I found these gems at a tiny antique store in the basement of Pike Place Market in Seattle. I was there visiting a friend, I'm sure she thought I was on a crackrock for not only buying these, but being gaga for them and carrying them around the city for a whole day.
Salt and Pepper Shakers. These are the newest addition and are just plain useful.
2. Wine Corks
This one sort of started as a decor thing, but now, I've got random little jars/vases of them all around the apartment. I keep meaning to make some sort of craft with them. I've got plenty. Any ideas? I think it may be time for a purge.
Perfect for the bottom of a flower arrangement. Notice the poodle statue that didn't make the cut.
Kitchen accumulation. This is the wine area of the room, so it's a little bit more ok.
Miscellaneous decorative jar. Yes, sitting on a box of poodle-shaped smelly soaps. This might be out of control...
Well, I've given you a glimpse into my little world, and am thoroughly conflicted about these collections. I may or may not have just demonstrated myself to be a crazy person. I guess that isn't too shocking.
Tell me you collect something strange....
Archive