Apr 29, 2011
I'm overwhelmed. The wedding was so beautiful and there were so many little things I want to chat about, I can't even collect my thoughts. I guess that's not all that weird for me, but this morning is particularly scatterbrained in my world. It could be the tiny amount of sleep I got. No matter, I'm running on the caffeine of prince and princess love. I'm drunk on romance. Stoned on fairytale endings. Cracked out on the grandeur.
Ok, I may be hitting the wall. On to the recap...
1. The dress.
She looked stunning. It was simple, but intricate. Modern, but traditional. Impeccable. The winning designer was Sara Burton of the late Alexander McQueen's house. WOW. I must say, long lacy sleeves were kind of jarring to me. You don't see that much these days, but she had to be covered for the ceremony. I kept thinking of Madonna actually. That may or may not be a compliment....loved.
2. The Prince
As soon as we first saw him you could tell he was totally freaking out. See awkward thumb twiddling above. GIANT SWOON.
I love a man in uniform, I really do. I don't even care about the hairline chaos. He was as dreamy as ever. There's something about a beautiful prince that just instantly transforms me into a giggly, babbling teenage girl.
Kate Middleton
Princess Catherine is one lucky B...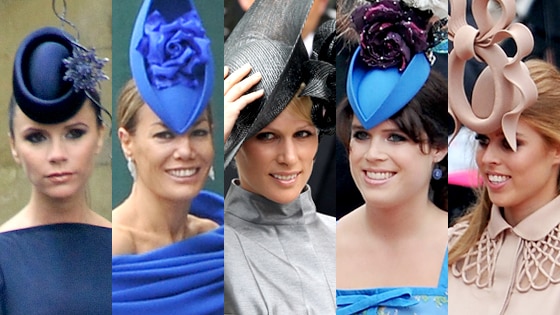 This hat business is so bizarre to me. It feels like an old lady going to Southern Baptist soul church. Or at least in my world, it does. I think they're a fabulous little addition to the outfits. But let's talk about one in particular for a second. Princess Eugenie. She was wearing some weird ass thing on her head that cannot be explained...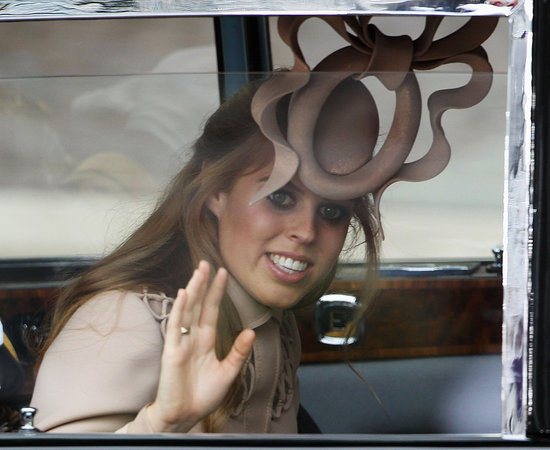 But really, WTF is that
cartoonish thing
? After that hat, she may be banned (like her mother) from these dignified affairs. My mom texted me bright and early about this one...and shares my sentiment that this thing is truly heinous. She is still a princess, so she'll always beat me, even with strange things on her head. Pout.
Sidenote: Doesn't it look like William is having some sort of intestinal chaos here? Giggle.
This is my new favorite ginger. And I love lots of them. He was so stinking cute. He was such a sweet best man. So smiley. He was also kind of a pistol. He was smirky and whispery and winking at random people in the crowd. He's a charmer. Those types always seduce me.
I also think he was relieved to be out of the limelight. Heck they even put him in the kids' carriage. I bet he had tons of fun. There were multiple times when his face was saying..."So when do we get the booze? I'm bored."
He could be my soulmate...
There's nothing really new here...he looked so. freaking. hot. UGH. I love that tux. Love the medal. Love the tophat. UGH. He just exudes perfection. Posh doesn't look to shabby either. She did kind of wear stripper shoes to a wedding, but hey, she's tiny. Love.
What'd you think was pretty? Anything ugly?
Anyway, that's all for now. The continuation of this post, the more lovey, dovey stuff, is headed your way!
images via
Archive