Apr 11, 2011
1.
I had an AWESOME weekend. I ventured to the wild west Texas for one of my best buddies' weddings. The whole event was flawless, I can't think of a thing I'd do differently if it were my own special day. Also, my friend was as happy and in love as I'd ever seen her, which is EXACTLY how things should be. I actually left the event with a renewed fervor to find the thing that makes me most happy in life. (weird, and SO not like me.)
2.
Creamy Lemon Bars! I made these for a co-worker's birthday today:
It was my first attempt at lemon anything and they're amazeballs. I'm really too proud of them. The crust and filling both came out perfect. I don't know why it brings me so much satisfaction and pride, but I like when I bake good. I can't take all the credit,
my homegirl Martha Stewart is partly responsible
.
3.
Gel manicures are my new hot thing. I tried this out back in January for my ski trip, and I'll NEVER go back. Have you heard of these gel manicures? It's amazing. Basically, it's a different process and different polish, but your nails stay perfectly intact for 2 full weeks! When they start to grow out it sort of looks bad, but what else can you expect? I had this done on Thursday:
The color is Cajun Shrimp - one of my faves. I'm sort of a snob for having my nails look meticulously groomed, so 4 full days without having to worry about it is a big deal for me. They are more expensive, but I highly recommend!
Happy friends, sweet treats and perfect nails...sometimes it's just the little things in life, ya know? I was brainstorming all the reasons why not to be a sourpuss on this Monday afternoon and I think I came up with some pretty decent things! How are you powering through?
Also, this is going on. And it's fun, so if you're a blogger, get over there!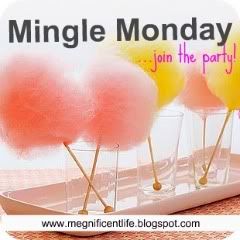 Archive