Mar 29, 2011
Happy Tuesday Friends! It's Top 2 Tuesday over at a favorite spot of mine - The Undomestic Momma. I've got a hot hair appointment for Sunday, so this is a topic on my mind this week...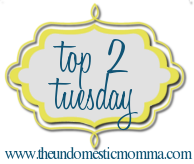 Top 2 Celebrity Hairstyles
Blake Lively
She seriously has my dream hair. Voluminous, but effortless. Blonde, but not too Holly Madison-ish. Both of these are what I strive for...rarely I accomplish it. Come to think of it, she may actually have my dream entire body...and life. Wait, let's just say I want to be her.
Reese Witherspoon
Another person I wouldn't have minded to be born as. That ponytail business from the Oscars this year was just stupid good. The thing with her hair is that it's always very polished, but not too stuffy. That's just kind of generally seems to be her M.O. in life. Love.
Anyway, just some random girliness for ya today! Happy Tuesday!
Archive