Mar 14, 2011
I'm grateful for Miscellany Monday over at
Lowercase Letters
today. That's mostly because I'm in serious Monday morning mode. I'm having some very sever synapse connectivity problems today. I'm a little sleepy after a night awake with a thunder-terrified poodle. I just don't understand how it calms me so much but sends the Prince into full meltdown mode. Anyway, on to the Miscellany: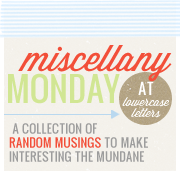 1. Nutella Swirl Poundcake
Yesterday I did a cook-a-thon. This is something I do when I have a fully available Sunday. Breakfast was made. A big batch of chicken salad for the week (post about it
here
). Dinner. Then, this delectable poundcake treat. My mom actually sent me the recipe (newspaper clipping via real mail - throwback) and I have been trying to find a reason to whip it up. Bored on a Sunday = perfect excuse. I highly recommend. It was easy and one of my first "from scratch" triumphs. I found the same recipe
here
, if you're interested.
2. Spring/Summer is here!
It was warm this weekend! Yes! I bought my first spring/summer dress of the year. This is a ritual I savor each year around this time. I have showers, brunches, weddings galore in the next few weeks. It's time to stock up. First find? This casual sundress from Old Navy:
Other colors, too. Buy it
here
.
Cannot wait to wear. I think it may have to make an office cameo this very week. I love dresses, have I ever told you that before? Pants are the worst. They make me hot...hate.
3. Favorite. Ginger. Ever.
I spent some serious time this weekend with Molly Ringwald. I'm not totally sure what came over me, but this weekend I watched both of these:
I kind of forgot how amazing they both are. It sort of made me want to go back to high school. But just for one quick second. The adult world is a million times better. Subsequently, I had a dream last night about Jake Ryan. We were in love and had millions of babies together. Maybe it was a daydream, and maybe it's happening right now....
That's all for now. I'm amazed at myself that I've reached only three miscellaneous items for today. Synapse chaos seems like it might be a problem for today....
Archive