Feb 22, 2011
Hello all! This morning I'd like to do my part in the blog world and jump in on two of my most favorite blog hops in the whole wide internet world...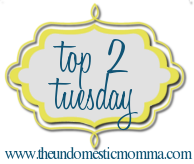 Top 2 Things you've learned from your parents or grandparents
I like this one because I'm one of the lucky people who has a family that's loving, functional (well, mostly), together and have taught me some of my most prized knowledge nuggets. So, I'm going to do a mom one, and a dad one...
1.
I'm so glad my mother taught me me how to be a grown up - how to write notes, shake hands, have manners and be polite and professional. She never let me quit things, always required that thank-yous notes were sent and taught me to be nice to everyone, no matter how dumb they are. I think being well mannered and polite takes you far in this world - and I credit her with my ability to behave like a grown up. She also showed me a thing or two about other important things in life: sugar cookies, the benefits of getting to the mall before 10 on a Saturday, how to truly master recorded television, and much more.
2.
My dad has given me the invaluable understanding that there is humor in everything. (That's him on the right, smiling at his new Christmas gift - Texas Tech Snuggie) He and I got a very similar sense of humor and he showed me that there is laughter to be found in most situations. He and I have always just sort of "got each other" when it comes to our eccentricities and semi-strange humor. I've always operated under the motto: "Never take life to seriously, nobody comes out alive anyway." He didn't tell me that, but it reminds me alot of him. Also, he's calm - like weirdly composed. He isn't a freaker-outter in the least. That I'm still working on. Maybe one day I can say he taught me how to be calm...
Anyway, I'm infinitely thankful for them. I really am one lucky little ducky.
Thanks for playing, Happy Tuesday, friends!
Archive