Jan 25, 2011
Heyo! Happy Tuesday friends! It's another
Top 2 Tuesday
over at the
Undomestic Momma
and I love her topic (again). Today's theme is favorite healthy recipes and snacks! I like this one - alot. I'm constantly trying to eat healthy. I fight a daily war with my inner cheese and chocolate-loving beast. But really, come 3 pm and 10 pm every single day, I crave the chocolately cheesiness. It's a problem. So, I'm working on getting myself out of the habit. Despite, the inner beast I've just described, I really am a pretty healthy eater. These are a couple of my favorite go-tos: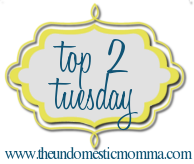 I love mexican delights. But, when I'm at home (without the margarita and queso demons found at restaurants) I love to make these. Here are the ingredients:
Extra lean ground turkey (get the extra lean, the regular lean has the fatty skins included)
Whole weat tortillas
Avocado
Skim cheese (sargento has the best skinny cheeses - trust me)
Tomato
Onion
Lettuce
Red Pepper
Brown the turkey, chop up the veggies and throw together your taco treats -that's it! Now, I know there's cheese, but I just can't not have it. This also makes a pretty amazeballs taco salad if you're so inclined. If I'm feeling completely wacky, I'll have some brown rice on the side, but really I'd rather just have more space in my tum for taco.
This is an everyday staple for me. My mid-morning snack (I'm trying to adhere to this 5 small meals/snacks per day plan) is typically a yogurt. The Greek ones are extremely high in protein, low fat, and help curb my dairy craving. IF you get the plain, it's almost no sugar, but I have to dress it up with fruit or Splenda. If you don't get the plain (which is a little tart), watch out for the sugar content in the flavored. My favorite is the various FAGE flavors (above) because of their high amount of creaminess and acceptable sugar content. In general, FAGE is the best brand I think.
I could go on about this forever. Comment if you're interested in more tips. This girl wasn't blessed with a favorable metabolism, and have pretty much been "dieting" since 2003. Yay for skinniness! Hopefully things will pay off in the next couple of days - I've just remembered that I need to get into a swimsuit this weekend - ACK!
Archive