Jan 18, 2011
Happy Tuesday gang! There are a couple little blogosphere tidbits i want to chat about today...
First of all, TWO sweetheart blog friends have given me another award! This is just getting silly, y'all. Extra special internet hugs and kisses to:
Adele
@
Dillypoo Chatter
. I've mentioned her before, but she works in the office next door to mine and she originally sent me down this blogging rabbit hole. Her blog is funny and inspirational. She is on a weight loss journey (and looks smokin' hot) and is chronicling her journey, with some quirky distractions along the way.
runawaybride
@
Chronicles of an arranged Indian marriage
. She is a new blog friend and had embarked on a journey that is totally foreign to me. She is navigating the waters of a real-life modern-day arranged marriage. She comes to the blog world with a unique perspective and interesting story.
Thanks so much to both of you. I really appreciate you reading and the sweet award, which might by my favorite to date: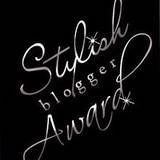 Stylish?!?! Finally, someone out there gets me.
The rules are that I disclose seven miscellaneous things about myself:
1.
I fight with myself about lip stain v. lipstick often - way too often. This is the kind of dilemma that will give me gray hair and crows' feet.
2.
Last night Manfriend and I made a
tasty pork tenderloin recipe
and substituted all the ingredients so that it was made with turkey loin and sugar-free ingredients. It turned out tasty and lean. VICTORY.
3.
I have an Andy Bernard bobblehead on my desk. I frequently imagine him singing this:
4.
I have a purple pen that is leaking, but too many purple pens to find the guilty party. Pathetic?
5.
I collect wine corks. Lots of friends have started donating to the cause, so hundreds have accumulated in bowls and vases all around my apartment. Strangers think I'm an alcoholic.
6.
If I come across MSNBC's "Lockup" at night, I will stay up freakishly late glued to the television. This is one part fear of nightmares, one part complete fascination. Whatever the attraction, I really can't get enough. My little nugget sister loves it too. It's an odd thing we share.
7.
Sports talk radio is a sure fire way for me to fall asleep. In my morning carpool, I inevitably fall into a coma as soon as I hear stats. Manfriend has learned of this for road trips. It occurred to me today to start listening to it in my room when I have insomnia, which is kind of a lot. Too strange?
Thanks again for the award friends!
Ok new topic:
Last Friday
, with my normal
Friday Newsflash
post, I started a little blog hop for everyone's hopping pleasures. Participation was dismal, to say the least. But, one super, sweet, sunshiney, amazeballs blog friend threw her name in the hat! Thanks so much to
Rachel
at
Simple Little Joys
for joining up! Go read her blog. It's precious, uplifting, spiritual, and gives me the feelgoods.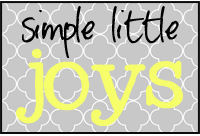 That said, I'd love it if any of you would swing by this Friday and join in the fun. All you do is write your own Newsflash post. It can be anything - something you've read or heard or any kind of personal announcement you want to make. Even just one thing is great! So, I'd love to see you all Friday! Please?
Archive