Jan 3, 2011
Hey blog world, it's a new year!
Today I'm back at work and it feels SO WEIRD. I took a 2-week hiatus from all responsibility and productivity. This morning has been foggy, to say the least. I forgot what was happening when my alarm went off before dawn and I've been disoriented ever since...
So, I think I'm going to kick of the new year right, with a little blog hoppin' fun! The truth is, I've been marinating my New Years resolutions in my noggin for days - and I'm not ready to face it. I'm having a real conundrum about what I'd like to work on this year. Last year's resolutions were a general fail - so this year, I'm considering lowering the bar. But that just sort of feels wrong to me...I digress.
In the spirit of the brain soup that is happening between my ears this morning, it's a perfect day for
Lowercase Letters' Miscellany Monday...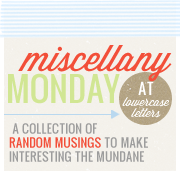 Although this morning I'm generally still in 2010 hangover mode, I've taken care of lots of little personal tasks:
Clear my desk/inbox of 2-week accumulation of crap
Order new non-conjuctivitis contact lenses
Pay bills
Make vet appointment for the Prince's annual tune up
Return various emails/Facebook messages
I'm proud. Now comes the real trouble: begin my to-do list for the new year. I'm totally daunted. With miscellaneous personal tasks behind me, I have no excuse. FML.
2. I made the most AWESOME cookies yesterday.
They're peanut butter-filled goodness:
They're very similar to the
Girl Scout Tagalong cookies
and SUPER easy. All you do is make a sandwich out of 2 Ritz crackers and peanut butter. Then, dip the sandwich in melted Baker's chocolate and garnish with whatever exterior cuteness you choose. Let harden and voila! I make these for a football-watching party yesterday and they were a hit! Thanks mom for the recipe!
3. Manfriend = Fantasy Football genius
This weekend he won his fantasy league Superbowl! Although fantasy football is a bit of a sore subject for me (mostly because it consumes his every thought), I'm really proud of him for winning the thing. There were 16 participants, so it's a semi-big deal that he won the whole shebang. He won some money, which I'm hoping to get a date out of for all my
bitching
patience over the course of the season. I've grumbled alot about this, but I really am proud.
4. Recent nail polish triumph
My new color du jour is OPI's Lucerne-Tainly Look Marvelous:
I discovered it on a quest for New Years Eve glittery things. I has the perfect amount of sparkle. There are just the tiniest little glitters mixed into the gunmetal-ish gray polish. In love. I plan to wear it until I'm sick of it. That's normally approximately a month. Stay tuned for February polish find...
That could be enough Miscellany for now. Don't forget about this, also happening today: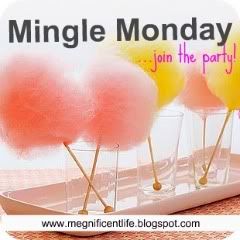 Happy new year! Happy new month! Happy new week! There's alot to be happy about!
Archive