Jan 17, 2011
Happy Monday all! I must admit, I didn't watch the Golden Globes. This is very unlike me, actually. When it started, Manfriend and I had just gotten back in town from a fabulous (and exhausting) weekend in Austin. Dinner needed to be picked up. Bags needed to be unpacked. Poodles needed playtime. There just wasn't a few available hours for television. But, I've spent the morning trolling the web for ALL the fashion do's and don'ts. I must say, there was a decided theme amongst my favorites - GREEN. And lots of it.
Is it just me or does she look a little bit more like a wax statue every red carpet event? Nonetheless, emerald sparkles = genius. That hot hunk of mancandy on her arm doesn't hurt either.
Catherine Zeta-Jones
This woman seems to be reverse aging - real life Benjamin Button lady. I don't tend to go for big, voluminous, cupcake-y dresses, but I love this one. The color is perfect for her.
Mila Kunis
She has the most smoldering stare I've ever seen in my life. It's like the eyes are lasering you with her hotness. Also, the asymmetry on this one is perfect. Not too much to one side, not too much volume. Amazeballs. I'd go crazy if she was my understudy too.
Elizabeth Moss
I think this dress is fabulously flattering on her. It's a fresh take on the classic sweetheart neck silhouette. Also, I love her effortless and natural-looking hair and makeup. She just looks so fresh.
Worst of the night
Theme: prints and reds gone wrong.
Michelle Williams
WTF even is this. Color is boring. Flowers are weird. Ruffle-y winged sides. Vom.
Christina Hendricks
There is just entirely too much red happening here. Her giant boobs, giant shoulder ruffle and giant teased hair are all in way too close proximity. This a top heavy hot mess. What a shame.
This is the
2nd time in a row
Ms. Jones has made my shiz list on the red carpet. Ordinarily I love her so much, but this just isn't tasteful to me. Betty draper would roll in her fictional grave if she saw this boob trapeze top. I may be done with her....
Helena Bonham Carter
There's really just no explaining two different colored shoes.
Men, Men, Men
Theme: interesting little tux tweaks
Jesse Tyler Ferguson
I love the classic tux with a tiny color splash.
Favorite Glee star by far. I love that he chose a coat with some character, but not too much.
Jon Hamm
Blue tux? I'm typically a purist, but I love this. Jon Hamm could be wearing overalls and I'd probably still swoon.
Robert Pattinson
Duh.
I really didn't intend to give the Mad Men stars so much love on this post. Clearly, I'm craving new episodes and have it on the brain. See a full slideshow of the fashions
here
. Who were your favorites?
Also, don't forget about Mingle Monday over at Life of Meg: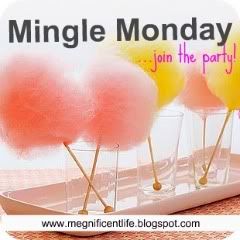 Enjoy your day! If you're off work for MLK day, I'm jealous of you.
Archive