Jan 7, 2011
HEY-O! It's a new year and the Friday Newsflash is BACK! I'm excited to be back in my routine on my most favorite-est blog day of the week! As for this weekend, I've got a few things going on...appointments, errands, eating...you know, the normal stuff. Mostly, I'm ready for some serious couch time. This week back at work and bootcamp has been a real shock to my system. It's amazing how quickly a bit of immobility will destroy your will to do anything. But, I'm determined to get 2011 rolling on a skinny and productive note...so TAKE THAT! Enjoy!
1.
There are a couple of break-ups of note...
GASP! Swiftenhaal (Jake Gyllenhaal and Taylor Swift) have called it quits!
Shocker. What in the world did they even talk about? Taylor Swift will probably be
whining
singing about him soon. Except for her inevitable heartbreak song, anyone else glad this is over? Now we can all go back to dreaming that this is our boyfriend:
2.
Any guess what these floating mystery shards are?
BEEF FAT
. Yes ladies, 250,000 gallons of gelatinized beef fat leaked into the Houston ship channel. There's really nothing like seeing tons of escaped fat to make me spit out my Starburst. What makes me giggle is that this sicko thing isn't anywhere near the worst thing that's leaked into the Gulf of Mexico lately. I bet the idiot who pulled the plug on the fat tank is thankful for BP right about now.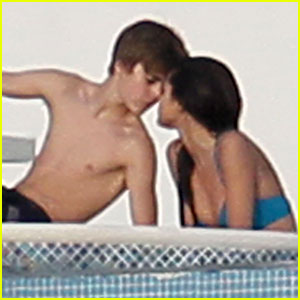 3.
Justin and Selena sittin' in a tree...
Justin Bieber and Selena Gomez are reportedly dating
. I didn't think this day would come, but total and complete domination of teendom might be possible. Over New Years they were spotted nuzzling on a yacht and St. Lucia. Their hookup doesn't really bother me, but the yacht does. The rest of us had to make out in the back of cars. Who do they think they are? I'm not that mad at her for stealing my jailbait crush, but apparently lots of people in the Twitverse are. She's gotten
copious death threats
. Here's a creepy example:
Oh tweens, how unstable they are, giggles. But honestly, I do sort of want to threaten them both about the yacht.
4.
Breaking news! Men don't respond to lady tears!
A new study shows
that womens' tears turn men off. The study: "Men were given jars containing either tears collected from women who watched a sad movie, or saline drops that were trickled down the same women's faces. Though they reported smelling no difference, the men who sniffed tears experienced drops in testosterone and were less likely to find photographs of women attractive than the men who smelled saline." Now, while this study is extremely bizarre, I guess it isn't that shocking. Who know crying women didn't get men all hot and bothered? I've been known to have teary meltdowns and manfriend will completely powerdown. In the future I'll probably still take offense, but I guess he can't help it. Men, so insensitive.
On a side note: doesn't "jars of tears" sound like the title of a Nicolas Sparks book? Something just tickles me at the though of jars full of tears...
5.
You can buy the amazing glass house from
Ferris Bueller's Day Off
. Located outside of Chicago, it's
listed for $1.65 million
. It's only 4 bedrooms, but I would have expected it costs more. It's
still totally badass
:
"The place is like a museum. It's very beautiful and very cold, and you're not allowed to touch anything."
6.
Quote of the Week:
"It's more than just a purse. It's a quilted case full of lipstick, love letters, and the dreams and possibilities that I have always felt every time I see that beautiful 'CC.'"
-Blake Lively, new spokesmodel for Chanel purses
My Chanel purse (or knockoff) is now full of vomit. But really, I don't think that actually came out of her mouth, but some person wrote that. Actually, I think I'd rather believe she said that.
7.
Now here's a story that really resonates with me (I have a very full year of weddings in my future). A Chicago woman tried to
scare her boyfriend into proposing to her by calling 911
. She called and claimed he was attacking her. When the police arrived, she tried to convince officers to force him to propose on the spot. She was charged with disorderly conduct. Baaaaaaaahhahahahaha. What happened to a good old fake pregnancy to force that situation? What interests me most is what
exactly
she said to the officers who arrived at the scene..."Hey guys, this a-hole has been dragging me a long for 3 years and I'm about ready to lock it up. Can you help?" I do admire her creativity.
8.
Rejoice!
Men's underwear with fake penises in them exist
!
It's called the 'Shock Jock Flirt Brief with Male Features.' Yes, you can now
purchase
whitey tighteys with a fake member inside. The purpose is enhancement - up to 2 inches of frontal penis giantness. The "goodies" are natural looking and designed to create the illusion of a larger package. While I support some men's need for push-up briefs, I just don't really understand. I can't think of a single woman, who sees a bulging package out and about in public places and is attracted. Furthermore, if it does attract a lady (or man), what's your explanation if things gets far enough that the
real
member is exposed? Disaster. Mistake. Dumb idea.
Now, go get your weekend on. I know I will. Love you!
Archive