Jan 21, 2011
Good Morning and Happy Friday lovely friends! This week has absolutely dragged by. It feels like it's been a 26-day work week. It's been sort of a downer of a week, and this morning (of course) I woke up with a total allergy explosion. But, I'm trying not to let that keep me down today. It's Friday, after all. My mom and some best friends are in town this weekend and I'm psyched to visit with them all. Also, I have copious ski trip-related errands to tackle....my trip is ONE WEEK FROM TODAY. I'm ecstatic. So, enjoy the Friday Newsflash delights and don't forget to hop!
1.
Science might have solved hang overs
. SHUT. UP. As a preface, I'm known for being the queen of wicked hangovers. I know what you're thinking (mom), this is not totally related to over-consumption. I really seem to have it worse than most people. So, I was delighted to read that science-y people have determined that coffee and aspirin is the best thing. Jigga what?!?! Apparently the chemically-induced hangover headache can be blocked by this combination. I'm shocked. I've seriously tried everything. I'm wondering if there is a Scientology-based cure. Those crazies seem to have all the answers. I intend to test this new theory out asap, but honestly, I've sort of given up this fight. As a side perk, I have another reason to be addicted to caffeine...
2.
Nicole Kidman and Keith Urban have produced more spawn
. Wondering when she was pregnant? Me too. My initial thought was that she found some sort of injectible to mask the signs of pregnancy, similar whatever she's found to masks all signs of aging. Nope, they used a surrogate. The baby is named Faith and is completely their biological child. They apparently had problems getting pregnant last time around (I blame the icy robo-face she has), so they needed a loaner womb. Congrats to the happy family!
3.
Starbucks now has an even more giant cup size. The new size, called the Trenta, will debut May 3 and is so ridiculously large. Actually, it's even bigger than your stomach.
See this handy diagram
:
WOW. The 31-oz cup will debut in a few states, including TEXAS, on Feb 1. This is my favorite display of American gluttony in recent memory. Thank heavens for extremely unhealthy things in extremely unhealthy portions, I almost forgot what country we were in for a sec...On the plus side, hang over conceivably become obsolete with these new mega-coffees. Maybe it isn't totally bad.
4.
Quotes of the Week (beware, they're both seksi ones):
"Khloe's not small. I'm not small. People see us and are probably like, 'Damn, I wonder how that looks.'"

-- Lamar Odom on his wife, the not small Kardashian sister
Nobody is wondering what that looks like. Nobody. Just because it's seemingly a habit in their family to film personal, private sexytime, doesn't mean anyone is wondering. Cocky. Pun intended.
"It's like doing Twister."

-- My sweet, sweet Robert Pattinson on filming sex scenes
Jeeze. Like any of us needed another reason to imagine him getting into sexymode. In my mind he's in sexymode at all times. Twister could be ruined for me now (mind reeling at the thought of Twister game with Edward). SWOON.
5.
I'm obsessed with this story. A 23-year-old girl. named Carlina,
figured out that she had been kidnapped as an infant!
S
he solved her own kidnapping case!
When she was just 19 days old a phony nurse casually carried her out of a Harlem hospital and she was never seen again. Back when it happened, this story was huge. Now, years and yeas later, she turned back up. A girl discovered she was kidnapped as an infant at age 23! She was raised by a woman and grew suspicious when she was old enough to realize the woman used fake names and ID's everywhere they went. Then, five years ago, when Carlina was pregnant, her "mother" refused to give her family medical information and revealed she wasn't her biological mother. For 5 years, Carlina has been searching missing children websites for herself - and it WORKED!! I think this tale is so encouraging and hopeful! Good things do happen. I hope more stolen children find their way home. Thank heavens for the interwebs.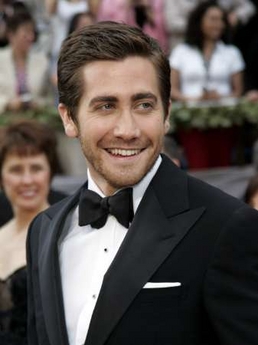 6.
J
ake Gyllenhaal apparently went on a flirt spree at the Golden Globes
. He brought a date that night (some random ex girlfriend), but he flirted up a storm. He was seen showing love to Maria Menounos, Scarlett Johansson, Mila Kunis and Michelle Williams. Now, I know he's fresh off the market, but how are women like me supposed to work in our boring offices when we're reading that mancandy supreme is hungry for prey? While I love juicy-ness like this, I'm starting to really be over his whoring. He'll never be damaged goods, but I'm deterred by how much he seems to get around to high-profile ladies. Meanwhile,
Taylor Swift is pouting
. Who cares.
7.
You can
now buy Whisky in a can
. I find this totally ridiculous, but also kind of genius. Who doesn't need distilled spirits on the go? I can just imagine this popping up in a Ke$ha video soon. Canned whisky sems like something she might be pretty interested. That Ke$ha, so classy. As for me, if this is real, I'm going to need lots of coffee.
Go out there and enjoy your weekends! I'm ready to do some recharging and bring my A-game back to work on Monday...this plan is pending debauchery happening this weekend :)
And now, for the most stellartasticfabulous blog hop you've ever seen...
1.
Become a follower of Poodleism.
2.
Write your own Friday Newsflash post on your blog. It can be about any silly (or serious) thing in the world. Write about something you heard recently, a news story that caught your eye or just an announcement you want to shout from the rooftops! It really can be anything! Even just one thing is great. Also, add this sparkly (not really) button to your post:
3.
Join the link up below. It's open until Sunday at midnight.
4.
Sometime next week (I'm still trying to figure out all the particulars of this part) I'll go pick a favorite and give you a sweet shout out!
So, if you're ready, hop away:
Thanks. Love you mucho!
Archive