Nov 19, 2010
Hey-OH! It's Friday and I"m freaking pumped up. This weekend I have amazing delights in my future. Next week is a holiday. The sweet flavors of pie are just painfully close. I hope you've all had a superb week, but not that good, because mine's kind of been crap and I when I'm down, so is the whole world....anyway, sorry for no Newsflash last week. I was busy being a globe-trotting young professional (I can't even type that and not snicker at it's ridiculousness.) Enjoy:
1.
Eva Longoria and Tony Parker are divorcing
. Eva filed for divorce this week after catching her man in the midst of a text affair with a former teammate's wife. They've been married 3 years, they have a prenup and this will all be over soon. We've all heard this story before. But, what really gets me is that the woman, Erin Barry, and Parker
supposedly have only exchanged texts
. There hasn't been a physical relationship. Eva found all the texts and dumped him. WHY IN THE WORLD does anyone still think they can get away with a text affair? At this juncture, if there is evidence of your side projects on your cell phone, you may as well sky write it. RIGHT? Texts. It's like he wanted to get caught. Maybe he did.
2.
They
might have found Natalee Holloway's jaw
. A jaw bone washed up on shore in Aruba. Upon initial inspection forensic experts believe it belonged to a young woman. Nobody is sure yet, it could even be an animal jaw, but this is a glimmer of hope for her family. They've sent her dental records to Aruba and anticipate results within the next week. She's been missing since 2005 and is believed to be dead, but nobody can be sure. This story has fascinated me since the beginning. I hope that creepo Joran Van Der Sloot gets everything coming to him. I don't hope she's dead, but if it is hers, this can finally be put to rest.
3.
Leighton Meester went out in THIS
:
4.
You can be a princess too!
QVC is offering $40 replicas
of Princess Diana and Kate Middleton's mega ring! The giant freakazoid of a sapphire is virtually priceless...until now. I love a cocktail ring, especially a princessy one. This is going to the top of my Christmas list immediately. Everytime I wear it I think I need to speak in a British accent. Can't. Wait.
5.
The sexiest man alive was an 18-year old d-bag back in the day like the rest of us. This gave me the major giggles. Read
the quotes with Ryan Reynolds' senior yearbook photo
....
WHAT IN THE WORLD does "4 BOYZ with the juice" mean?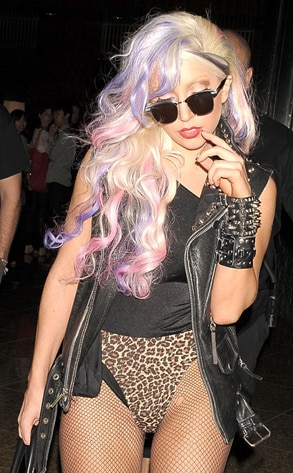 6.
Quote of the week:
"Endless melodies, hooks + poetry sledge-hammering my skull. It won't be much longer, it's almost perfect. But I (we) don't want almost."
Sweet Gaga
tweeted
this about her
new album
,
We Were Born This Way
. Of course, I'm freaking excited about more Gaga genius jams coming out. But, now that the term "poetry sledge-hammering my skull" has been thrown out, I'm just giddy with anticipation.
You know, sometimes people tell me stuff on this blog "sledge-hammer(s) their skull." I hope they mean it in the good, Gaga-type, way...but probably not.
7.
Stock up on your 4 Loko if you're so inclined. The
FDA will rule that caffeinated alcoholic beverages are unsafe
. 4 Loko and Joose won't be available much longer. Drinks like this have been to blame for several college students' severe alcohol poisoning. Banning them is probably a good thing because one can of 4 Loko "is the equivalent of drinking at least several cans of beer and a cup of coffee." Knowing this fact, like the geniuses we are, me and some of my friends recently tried out the beverage. Don't fret (mom), we didn't drink anything close to excess. The lemonade flavor is bizarrely, freakishly, shamefully, delicious. The four of us split one of the giant cans and it left me wanting more. TROUBLE. I'm glad these things are going away. They are dangerous. And trashy.
8.
Amber, of
Teen Mom
, has been
charged for assaulting her former fiance
(video found at that link) Gary. See photo evidence:
Is it wrong to find immense humor in this second being frozen in time?
On three occasions on camera she beat up on Gary and has now been charged with a misdemeanor and 2 felonies!! That's serious business, especially because the crimes took place in front of the couple's young daughter. Gary was sort of a crappy dad at times, but probably didn't deserve felony-level assault. Amber could serve up to three years in jail and pay $10,000 in fines if convicted. And, the MTV camera crews could be charged for not intervening! On top of all of it, she's
recently lost custody of her baby and been photographed drinking
. This little tart seriously needs to get her S together. I feel bad for her and Gary. I hope they solve their problems soon. I feel guilty to admit that I hope at least some of the saga has been filmed for next season of
Teen Mom
. You know you do too.
Side note: A sweetheart, angel, cutie pie of a blogger gave me a random lovely shout out. Caroline at A life of Color gave me unsolicited praise and it melts my little heart. The blog is cute, she is a super writer and she has impeccable taste...clearly. I've added it to my sidebar so you can refer back to it often. Thanks Caroline!
Happy Weekend Lovelies! "Stay Classy San Diego...and Thanks for Stopping by...but more be Classy. But thanks for stopping by..."
(confused?)
Archive