Sep 3, 2010
Happy Labor Day Weekend! This weekend I'm really looking forward to 3 un-interupted days of not working. I need some R&R this Labor Day. Heck, that's why we have Labor Day! I'm headed to Tyler, TX for a wedding tomorrow then will just be kickin' it in the Big D with some friends. Can't. Wait. Oh yah, and tomorrow there's this little old thing happening:

LONGHORN FOOTBALL!!

(More on that to come.) Happy Friday!
1
. The new Dancing with the Stars lineup has been announced! Here are the stars and my thoughts...
Brandy

- just reading her name means "The Boy is Mine" will be in my head for the rest of the day

Bristol Palin

- I'm so sick of these stupid Palins. Why exactly is she a star? For being the most famous pregnant teen?

Florence Henderson

- Brady mom. Cute.

Jennifer Grey

- Of Dirty Dancing fame, she may have an edge

Margaret Cho

- I'm having a hard time imagining her be graceful

Audrina Patridge

- beautiful, but not smart, will be interesting to see her memorize the steps

Michael Bolton

- where has he been all these years?

Mike "The Situation" Sorrentino

- I read he just bought a Bentley. I wish I were famous for abs.
David Hasselhoff - why won't he just go away?

Kurt Warner

- ex quarter back and NFL hall of famer, no thoughts.
Kyle Massey - don't even know who this is. Apparently he's a Disney star.

Rick Fox

- L.A. Laker and dreamboat. I bet he has moves.
2
. A man was arrested at a Malaysian airport for having
95 live snakes (and one turtle) in his luggage!!
His suitcase was cruising down the conveyor belt, and just flew open, exposing the 95 boa constrictors (and one turtle) inside. The animals are on the endangered species list. The crime here is "wildlife smuggling." In the past, this same man was sentenced to71 months in U.S. Federal Prison for the same kind of smuggling! I have some questions....How big was this suitcase? How much did he pay in fees to check the snakes? Were the snakes comfy in there? (There is no way, they burst out!). Was the single turtle an afterthought or just a beloved pet? What crackrock was he smoking when he tried to play it cool with that in his bag? (I try to play it cool if I have one too many travel-sized Bumble & Bumble products in my purse). Weird story.
Personal sidenote:
I'm so terrified of snakes that my Google image search for 'boa constrictors' even made me nervously shift my weight and begin to sweat. I settled on this little guy, he seems harmless. He might even be drunk. I know I've saucily made that face before.
Actual mugshot. Really pretty.
3
.
Paris Hilton was arrested again, this time in Las Vegas for cocaine possession.
Police were attracted to her car, she was the passenger, because they believed marijuana smoke was pouring out of it. Then, when speaking to police, she reached into her hand back and just whipped out the coke. She claims it wasn't hers and she didn't know it was in there. Then, shortly after being released from jail, she Tweeted.... "In bed watching Family Guy. Love this show.! So hilarious! Stewie is my favorite :) love his accent," and, "Going to bed. Sweet dreams everyone. Xoxo Paris :)," What the hell? Was she still coked out? This whole thing is very bizarre to me. Seems like getting arrested for drugs isn't so bad. Or maybe she has just figured out the routine. She seems to have gotten the hang of the mugshots though. Lohan, pay attention.
4
. Jane Fonda, age 72, is
still making workout DVDs
. The workouts are low impact, and designed specifically for seniors. Good for her. I'm blown away how good she looks (see 1980's-era Fonda
HERE
):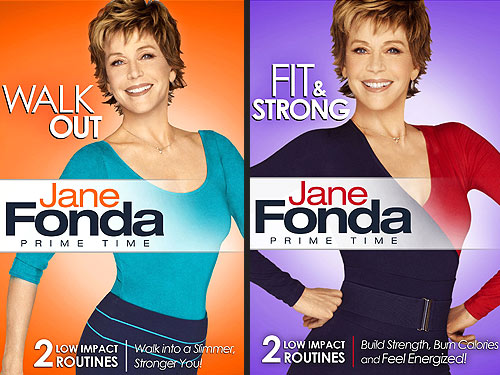 Airbrush much?
When I'm 72 (if heredity is any indication), I doubt I'll be doing any workout DVDs. Let alone making them. While I'm glad for her that she's healthy and vibrant in her 70's, I not-so-secretly wish that she had muffin tops like the rest of us.
5
. Quote of the Week:
"I don't really have that much in comparison to the way Don holds himself. I'm not that guy. I don't really look like that." —Jon Hamm, in Rolling Stone on Mad Men
I appreciate Hamm separating himself from the drunken, womanizing reveler that Don Draper can be. But the "I don't really look like that" part confuses me. Doesn't he pretty much look EXACTLY like Don Draper? Maybe one thing they also don't have in common is their intellect. Who cares, still luscious.
...or earlier apparently.
6
. They have found
beer in a shipwreck that is 200 years old
!! The ship wrecked in the Baltic sea en route from Finland to Russia sometime between 1800 and 1830. When they brought the beer out of the water it exploded from pressure and they determined it was beer and the cultures were still alive, meaning it's still drink-able! The Baltic sea remains just around freezing all year round, so the beer was preserved. This is by far the oldest beer in the world. Interesting.
...I wonder what intern on the shipwreck exploring boat is going to be made to drink the beer. Poor kid, he's just trying to get some freaking college credit and move out of his parents garage apartment.
7
. Michael Jordan has a Hitler mustache. What the hell?
I hope everyone has a epic bitchin' weekend. Like the kind that you talk about next year at this time. As for my weekend, I'm being optimistic.
Archive