Sep 4, 2010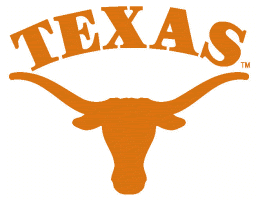 So today begins one of my favorite times of year....FOOTBALL season, specifically LONGHORN football. I graduated from the University of Texas and firmly believe it is the best school in the history of all mankind for many reasons. One of the first and foremost is the institution that is Longhorn football. Admittedly, I'm not a technical expert on the football game itself. I love the revelry, the partying. the tradition, the burnt orange (which happens to go nicely with my natural coloring), the game day foods, the hating of rivals....all of it.
This is Bevo, the official mascot. I love him. He is usually pretty tranquilized, but he will moo on you. Watch out.Check out this regal pose....
Today, the mighty Longhorns battle the Rice University Owls, who are no match for our prowess on the gridiron. This is a season opener where we mercilessly smack down on a team much inferior to us. Nonetheless, it will be SUPER fun!
So to kick things off, the first Fight Song of the year! Get excited for this non-moving YouTube video:
Have a super football day blog friends!
Archive